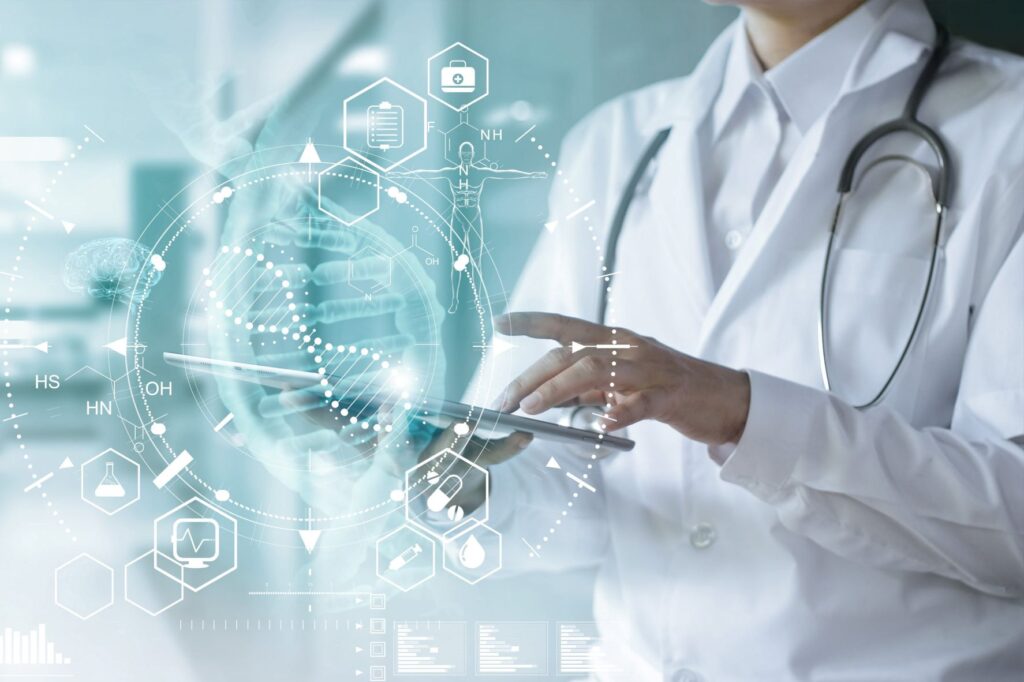 With the ever-growing proliferation of electronic healthcare data and an increasingly complex healthcare digital and analytic landscape, healthcare systems are seeking to optimize their ability to use data effectively to drive improvement in their clinical and financial operations.
SCU has the expertise and capabilities to support the development, evaluation and testing of data analytic products within one of the world's largest and most successful academic ACO environments.
Technology companies in the healthcare data analytic space have unique opportunities to develop powerful solutions to meet the needs of end users seeking to improve quality of care and cost-effective delivery of healthcare services.
Our team includes faculty members with front line clinical expertise as well expertise in medical informatics, data science and population health management. Our data scientists and analysts have expertise in AI/ML predictive model development and implementation here within the MGB network, as well as EHR optimization, and population health analytics.
Product and Service Offerings
Industry support for testing and development of innovative products
Testing and validation of clinical predictive algorithms and other analytic tools. We can provide access to a wide variety of clinical test environments for companies developing new software products to develop cases showing value creation, including frontline user feedback as well as designing and implementing formalized validation strategies. 
Co-development of products.  We can also support early-stage product design with input from our clinical, operational, administrative, and informatics experts.
Licensing of clinical analytic products for healthcare delivery
Our team develops analytic solutions for deployment within the MGB system, which can be licensed for use by other healthcare systems. 
Examples of these include, AI/ML predictive models, advanced query-based predictive models focusing on a wide variety of clinical care scenarios in hospital settings as well as outpatient and community-based settings.
Industry sponsored research
SCU can support a wide range of industry-sponsored research initiatives for understanding the characteristics of specific patient populations as well as RWE studies on the patients' trajectories currently using specific drugs/devices.
Educational programming on data driven care
The effective implementation of data analytic solutions most often requires targeted educational programming for multiple stakeholder groups within the healthcare system.
SCU leverages its in house educational resources to develop and implement powerful educational content for frontline clinical users, mid-level management, healthcare system leadership and patients, describing the benefits and use of healthcare data analytic solutions.
Educational programming can be delivered through a variety of channels, including print, digital/on-line, and in person.
SCU Success Stories
SCU experts worked with the Home Hospital (HH) program at Brigham and Women's Hospital as they were trying to expand the volume of patients admitted to their service. We developed a hybrid AI solution for evaluating all of the patients currently admitted to the inpatient services within the hospital to create a prioritized short list of candidates for transfer to HH based on their clinical characteristics and likelihood to not deteriorate clinically in the next 72 hours. This automated solution can dramatically reduce the workload and improve the yield compared to clinicians manually reviewing patient charts.
By Clinicians, For Clinicians
SCU is different from other healthcare data analytic service providers, in that we are fully integrated within one of the leading academic healthcare systems in the US and thereby have a unique perspective on the data analytic needs facing healthcare systems as well as experience with developing and implementing effective solutions.